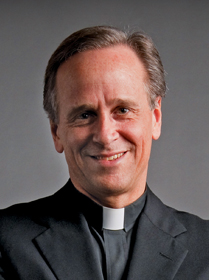 Given the encouragement to pursue dreams and the resources to discover and develop talents, every young person has the potential to excel in his or her pursuits. By offering scholarships for post-secondary education, the Annexstad Family Foundation provides hope and confidence to deserving students. At the University of Notre Dame, we are proud to be affiliated with an organization that shares our commitment to being a source for good, particularly to educating our world's future leaders.
Rev. John J. Jenkins C.S.C., President
University of Notre Dame
---
Gustavus Adolphus College is proud to be the first institution to partner with the Annexstad Family Foundation. We appreciate the Annexstads' commitment to helping promising students with significant financial need pursue their dreams and develop their talents. We are honored to continue to work with the Annexstad Family Foundation and delighted to share the Annexstads' vision of helping to prepare deserving students for lives of leadership and service.
Becky M. Bergman, President
Gustavus Adolphus College
---
---
Talent is distributed equally throughout our society, but opportunity most certainly is not. One of our highest priorities at the University of Michigan is to guarantee that a diverse group of the world's brightest students will be able to study on our three campuses and go on to make a positive impact in communities here and around the world. I appreciate the work of the Annexstad Family Foundation to provide valuable support to students who are pursing higher education.
Mark Schlissel, President
University of Michigan
---
Northwestern University is honored to partner with the Annexstad Family Foundation in the Leaders for Tomorrow scholarship program. We are deeply grateful to the Foundation for the continuing support of so many of Northwestern's outstanding students. Thanks to this scholarship support, these students are able to augment their classroom experiences by serving as campus and community leaders as well as in internships that prepare them for successful careers. We commend the Annexstad Family for mentoring new generations of student leaders at Northwestern through this wonderful scholarship program.
Morton Schapiro, President
Northwestern University
---
---
At the University of Redlands we strive to foster both intellectual curiosity and responsible citizenship. Our intention is that students will reach the end of their four years here inspired by their liberal arts education and equipped to make positive change in the world. This vision aligns us closely with the mission of the Annexstad Family Foundation, and we are honored to partner with them to support deserving students with significant financial need. The impact of this kind of college scholarship can be extraordinary, providing an opportunity otherwise impossible to attain, and encouraging students of great promise to reach far and realize ambitious dreams. Our campus, too, benefits enormously from the presence of these exceptionally bright and accomplished students, all of whom have faced adversity and have the potential to become the strong, compassionate leaders our world so abundantly needs.
Dr. Ralph Kuncl, President
University of Redlands
---
Spelman College appreciates the Annexstad Family Foundation's consistent support of our students. By establishing the Leaders for Tomorrow Scholarship, the foundation is providing critical resources for Spelman students, many who are high achievers and future leaders with great need. This investment aligns with our overarching strategic goal to ensure that no student is prevented from completing her education due to financial challenges. We are sincerely grateful to the Foundation for their commitment to Spelman women who are making a choice to change the world.
Dr. Mary Schmidt Campbell, President
Spelman College
---
Carolina has a proud history of welcoming students from all walks of life. Extraordinary talent often arises from extraordinary circumstances, and the Annexstad Family Foundation is a wonderful partner in recognizing students who have overcome hardship on their path to college. The Foundation's support not only helps talented students achieve their dreams, but also strengthens our entire campus community.
Carol L. Folt, President
The University of North Carolina at Chapel Hill
---
The University of Mississippi is dedicated to transforming lives through education, and we are honored to partner with the Annexstad Family Foundation in this effort. No single investment is more important to the future of our economy and society than higher education. Through its scholarship programs, the Annexstad Family Foundation provides hope and encouragement to deserving students who might not otherwise be able to attend college. These programs allow students with financial need to "lift themselves" via higher education and realize rewarding careers, thus breaking the pernicious cycle of poverty. We are excited to partner in this way with the Annexstad Family Foundation to help future generations achieve their full potential.
Jeffrey S. Vitter, Chancellor
University of Mississippi
---
---
The University of Georgia is honored to collaborate with the Annexstad Family Foundation to provide much-needed funds to highly deserving students. The recipients of the Leaders for Tomorrow and the Al and Cathy Annexstad Horatio Alger Scholarships have overcome adversity and financial hardship to attend the University of Georgia ready to develop their potential. We take our commitment seriously to nurture these talented young students so they may succeed in higher education and inspire others.
Jere W. Morehead, President
University of Georgia
---
Our institution's founding vision is that a university should "contribute even more than California's gold to the glory and happiness of advancing generations." The Annexstad Family Foundation Scholars are the reason why this vision remains alive and well almost 150 years later. Berkeley is charged with providing a world-class education for talented students, regardless of their economic means or family backgrounds. We do so with joy and purpose because we know that students of ability who come from limited means endure life experiences that often drive them to become champions for the greater good. These are our change-makers.
Nicholas B. Dirks, Chancellor
University of California, Berkeley
---
---
Part of what makes Emory University distinctive is its uncommon balance between ground-breaking, transformative research and an emphasis on excellent teaching and mentoring. Emory is committed to educating the next generation, discovering new knowledge, and making a positive impact on the world. These are values and commitments we share with the Annexstad Family Foundation. Through scholarship support like that from the Annexstads, for young people who have endured extraordinary challenges, we are able to help shape bright minds and empower individuals for the benefit of society
Claire E. Sterk, President
Emory University
---
The Annexstad Family Foundation makes dreams come true! Everyone should have the ability to participate in the American Dream, and the Annexstad family has recognized that a great education is the best way to open the door of opportunity. Since its inception, the Foundation has changed the world for the better by opening that door of opportunity time and time again for those who might otherwise not have the chance to walk through it. Al and Cathy Annexstad worked very hard and have achieved much, so it is inspiring to see how they have dedicated their lives to helping others follow that same path. It is amazing how many lives the Annexstad Family Foundation has touched. The world is so much better for it. Winona State University is proud to be a partner with the Annexstads in helping students achieve their dreams.
Dr. Scott R. Olson, President
Winona State University
---
The University of St. Thomas wholeheartedly embraces the Annexstad Family Foundation's commitment to enable first-generation college students to earn their degrees and make a difference in the lives of others. During my 30 years in higher education, as a professor, dean, provost and now president, I often have witnessed the extraordinary impact that scholarships make by in creating pathways that otherwise would have been unattainable for promising students. These scholarships are particularly important because they lift up students, who often bring a special talent or perspective to the table as a result of their hardships, as future leaders.
St. Thomas' mission is to educate students to become morally responsible leaders who "think critically, act wisely and work skillfully to advance the common good." That mission, in my view, dovetails beautifully with the foundation's mission to help students who have "bright minds, big dreams and little means to make those dreams come true." Working together, we can help those bright minds advance the common good and make this a better world for all of us.
Julie Sullivan, President
University of St. Thomas
---
The Annexstad Family Foundation plays an important role in helping young people achieve their dreams of a college education. Our partnership with the Annexstad Family Foundation is a natural fit because our shared goal is helping our students succeed. The Leaders for Tomorrow National Scholarship program provides incredible opportunities for some of our most outstanding students.
Dr. Stuart Bell, President
University of Alabama
---