Al Annexstad is deeply rooted in the morals and values that have shaped his life's path. From these values, Al made decisions and judgements that helped determine his success in his personal and professional life. As an extension of Annexstad's purpose, these values shine through the mission of The Annexstad Family Foundation.
---
Gratitude
Throughout his childhood, Al's mother Alice instilled in her family the importance of saying thank you to the gestures of community members. This value was reinforced throughout Al's career that sincere expressions of gratitude can be a powerful catalyst in building and maintaining relationships. Al and Cathy are deeply grateful for the blessings and opportunities that prepared them for meaningful lives.
Connection
Al credits his successes both professionally and personally to the relationships he has developed and invested in over the years. By staying connected and expending maximum energy into friendships and partnerships, big ideas and goals can turn into realities.
Integrity
Al believes in doing what is right for the majority of people versus what might benefit a few. He follows through on his word and leads by example. He holds those around him accountable and acting in the highest standard. He often shares with his associates, "trust but verify" to ensure business and life is conducted to the highest principle. With new agreements and initiatives in place, Al also often shared with his team members and colleagues "I'd rather see it than hear tell of it" to ensure promises made become promises kept.
Service
From all the success and blessings from Al and Cathy's life, their greatest blessing has been the opportunity to give back to others. Both Al and Cathy relied on the friendship, guidance, and mentorship of others in their early lives that allowed them to learn strong values to build upon. The greatest joy of Al and Cathy is the opportunity to directly see the impact of their service through the Annexstad Family Foundation.
Loyalty
Dedicating his career of over 45 years to help Federated Insurance grow and evolve, loyalty was deeply rooted in Al's professionalism. By doing his best for others, he expects that same standard of ethics and morals from associates, friends, and partners.
Persistence
Good habits in one's career and personal life can help determine success. Learning from the example of his mother, who would show up to work at Gustavus Adolphus College in a blizzard via snowmobile to serve students and faculty, Al works to show up early each day to tackle the opportunities and challenges presented. While not perfect, making a conscience effort each day to develop good professional and personal habits led to Al's great success in business and life.
Passion
Al stands by the belief that to fully find success in life, one must find a purpose that they are passionate about. Whether it be teaching in a classroom, developing new technologies, or helping small businesses protect their assets, passion allows one to lead with integrity and persistently show up in support of others. With the founding of the Annexstad Family Foundation, Al and Cathy believed in providing college scholarships to allow students to graduate with little to no debt to pursue their passions and studies to create new pathways for themselves and their families.
Possibility
Al has a tremendous gift for recognizing the potential and possibility in people and opportunities. By investing time and energy in others, Al has motivated thousands of individuals to challenge themselves and their capabilities. Through his leadership at Federated Insurance, the company was able to transform and expand exponentially from a small regional organization to a national leader in the insurance industry. Through the Annexstad Family Foundation, Al and his family recognize the shining light and potential in hundreds of students each year.
Al Annexstad's employment announcement card from 1965 at Federated Insurance Companies
---
Al presenting to 500 marketing representatives at Federated Insurance circa 1986
---
Al meeting with Reverend Theodore Hesburgh CSC "Father Ted", longtime President at the University of Notre Dame
---
Al and Cathy meeting with St. Peter High School Hope & Inspiration Scholar Anastasia Nereson in 2010
---
Al and Cathy attending the 2005 Gustavus Adolphus College Commencement to support Amy Abrahamson, the first AFF scholarship recipient
---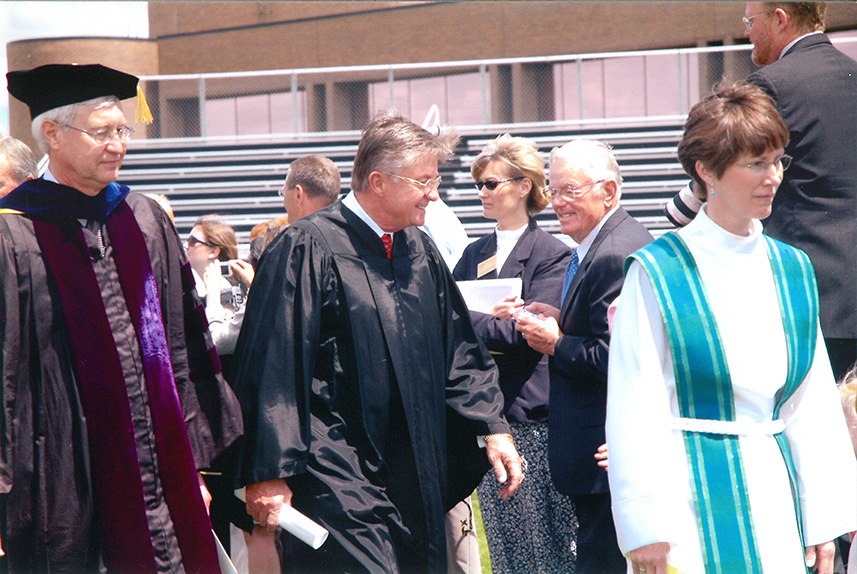 Al Annexstad Before Giving Commencement Keynote at Gustavus Adolphus College
---
Al Annexstad in Twin Cities Business
---
Al Annexstad in front of Federated Insurance Buildings
---
Al Annexstad Leading Sales Meeting Circa 2003