Alyssa Smith
Michigan Technological University
B.S. Exercise Science, Class of 2019
Leaders for Tomorrow Scholarship
"My time at Michigan Tech allowed me to explore my passions including a love for rural health, occupational therapy, and research. I am currently serving as a Research Assistant and looking forward to graduating in 2021 with a Master of Occupational Therapy from the University of Wisconsin,Madison. On the job, making it through a day knowing I learned a skill or concept valuable in treating a person who is experiencing some of the worst moments defines my list of accomplishments. I never knew the degree of work that went into graduate coursework, and it has given me a vast appreciation for what I have learned. Presently, I am fortunate to be participating in a groundbreaking research project regarding the neurodevelopment of infant rhesus macaque monkeys in relation to the Zika virus.Our studies are focusing on the impact of prenatal exposure in human development. We hope this research will help drive OT interventions with children who may be delayed. It has been such an honor to work on this study."
---
Courtney Bell – Minneapolis-St. Paul, MN
University of Minnesota, Twin Cities
B.A. Law, Criminology and Deviance
Class of 2011
Big Brothers Big Sisters Program

"The Annexstad Family Foundation allowed me to be a full-time scholar – and first-generation college graduate – without the worry of working to pay for school. At UMN, I gained a systemic, socio-historical, and socio-political understanding of the U.S. education system and the impacts that it has on its constituents. This has outlined my mission of eradicating educational inequity. As a leader with the UMN Black Student Union, I learned the value of community, leadership, and mentoring. After completing my Master of Education at the University of Minnesota, I taught social studies at my alma mater, North High School, in North Minneapolis for four years. I am now a Program Manager of Culturally Responsive Instruction for Saint Paul Public Schools. I continue to mentor my former students and those who have started college. I am truly grateful for the blessing the Annexstad family has been in my life. I was able to break a generational cycle of educational inequity and go on to achieve personal goals and professional accomplishments, from purchasing a home for my family, to being named a 2018 finalist by the Minnesota Teacher of the Year Program, to finishing my Ph.D. in Educational Policy and Leadership from the U of M this year."
---
Bridgette Hemmesch Deters
University of Minnesota, Twin Cities
B.S. Veterinary Science, D.V.M.
Class of 2007
Big Brothers Big Sisters Program
"Like Mr. Annexstad, I grew up on a family farm and lost my own father when I was very young. I, too, was raised by the courage of my mother. As a first-generation student who always wanted to be a veterinarian, The Annexstad Family Foundation Scholarship allowed me to go on to veterinary school by keeping the cost of college low. I never could have paid for college on my own. The Annexstads Scholarship gave me the advantage to live on campus, focus on studying, and make the most of opportunities provided to me. The day I graduated with a Doctor of Veterinary Medicine in 2011 from the University of Minnesota, St. Paul College of Veterinary Medicine was a memorable one! I am now a veterinarian who supports dairy farmers in the care of their animals. My way of paying forward the Annexstads' kindness and generosity is by mentoring veterinary students in the job's real-world challenges and the skills they will need to succeed"
---
Jordan Morgan – Minneapolis-St. Paul, MN
Bemidji State University
B.S. Environmental Policy and Planning; B.A. Sociology; Sustainability minor
Class of 2016
Hope and Inspiration Scholarship
"As an Annexstad Scholar, I soaked up every opportunity, which included serving as the President of Students for the Environment and participating in the Doris Duke Conservation Scholar and the McNair Scholar programs. The Annexstads helped me make the most of my college experience by giving me the finances and time to do so. I recently earned a Master of Science, Technology, and Environmental Policy from the University of Minnesota Humphrey School of Public Affairs, where I was also a Dove Fellow. A highlight of my experience there was attending the COP23 International Climate Negotiations in Germany. Now a Special Education Paraprofessional/ Sustainability Coordinator for the LoveWorks Academy for Performance and Visual Arts, I find immense satisfaction in working one-on-one with low-income students who have learning disabilities and need special education accommodations to help them learn. I also hope to make LoveWorks Academy a more sustainable institution."
---
Jesse Newell – Bloomington, MN
Gustavus Adolphus College
B.A. Athletic Training
Class of 2013
Big Brothers Big Sisters Program
"The Annexstad Family Foundation Scholarship allowed me to discover my true passion of helping train others to achieve their athletic goals while also allowing me the opportunity to play college football for Gustavus. During my senior year, I led the defensive line during pre-game workouts and worked with underclassmen to define their skills. This experience led me to get my Master's in Applied Exercise Science from Concordia University Wisconsin and work as a Graduate Assistant Athletic Trainer. Currently I am the Head Athletic Trainer for Bloomington Kennedy High School. I am also a board member of a startup nonprofit called Foreshadow, an organization focused on bringing change by bridging the achievement gap for youth within the Twin Cities. The work is rewarding, and I am grateful for the chance to make a difference"
---
Hayden Rodarte
Stanford University
B.S. International Relations, Latin Language and Culture
Class of 2009
Leaders for Tomorrow Scholarship
"I have had the honor of working with the Annexstads and the Annexstad Family Foundation for over 10 years now. From that very first call when Stanford offered me the Scholarship, I knew my life had changed dramatically. I am who I am today because of the Annexstad's immense generosity, warmth, and support. I thank Al and Cathy Annexstad not only for the opportunity to access a quality university undergraduate education, but also for the numerous doors they have opened for me in the decade since. Now a practicing immigration and civil rights attorney in San Francisco, California, I have dedicated my personal and professional life to paying forward the opportunities I have received and reinvesting the resulting privileges I now enjoy as both a college and law school graduate. Over the years, I have been fortunate to meet and mentor Annexstad Scholars around the country, each of whom have in turn inspired me greatly. I am proud to impart my experiences and lessons learned to future leaders of color and first generation college students. None of this would be possible without the Annexstads' dedication to supporting a new generation's brightest minds and biggest dreams."
---
Isaac Wenzel – Indianapolis, IN
Winona State University
B.A. Mass Communications
Class of 2015
Big Brothers Big Sisters Program
"When I first arrived on campus, it was The Annexstad Family Foundation that helped me get involved. The Annexstad Scholars was the first group I joined. Through events like the Federated Challenge, I was able to ask fellow students for advice on the program and what to expect. This gave me tremendous confidence. From my coursework, group projects, and student organizations, I gained a great deal of experience that prepared me to work in my chosen field of radio. After graduation, I launched my career by working in a number of smaller markets until I landed a job as a Radio Personality and Music Director for WFMS 95.5. Moving to the larger market of Indianapolis was a dream come true. I'm constantly learning and growing, scheduling the music for the station and building relationships with record labels. I'm excited to see where the future takes me!"
---
Abigail Gabriel – Tempe, AZ
University of Minnesota, Twin Cities
B.S. Psychology
Class of 2017
Leaders for Tomorrow Scholarship
"The Annexstad Family Foundation gave me financial independence during my college years along with a sense of community by connecting me with fellow Scholars. But what I have carried with me is the character I developed as an Annexstad Scholar. My commitment to the values of diversity, equity, and social justice for marginalized groups led me to become a leader. After my undergrad studies, I began a doctoral program in Family and Human Development at Arizona State University where my research on Asian American racial identity was presented at an international Developmental Psychology Conference in Athens, Greece. In 2020, I completed a Master of Science and am now on the road to receiving my Ph.D. in Spring 2023. I enjoy volunteering at local cultural events to teach community members about ethnic history. I also work with the Asian Pacific Community in Action (APCA), a non-profit organization that advocates for health equity and promotion among Asian American individuals and families living in Arizona.
---
Karen Larios – Chicago, IL
Georgetown University
B.S.B.A. in International
Business and Marketing
Class of 2016
Leaders for Tomorrow Scholarship
"As a first-generation Latina college graduate, I never imagined that I would one day work in the finance industry. However, my Georgetown education expanded my horizons, taught me to network, and challenged me to work in a field I love. In my current position as an Associate at Chicago Equity Partners, a boutique asset management firm, I focus on client relationship management, compliance, and supporting the equity portfolio management team. My plans to obtain a Master's in Business Administration are underway as an MLT MBA Prep Fellow. Looking back, the financial and emotional support I received as an Annexstad Scholar gave me a confidence I maintain today while allowing me to leverage relationships and resources to better myself. As a way to give back, I volunteer with the Big Shoulders Stock Market Program where I teach investment principles to 8th graders. My dream is to help advance financial development in the world and create funding opportunities for underserved communities all over the globe."
---
Jeffrey Zoch – San Francisco, CA
Stanford University
B.S. Computer Science
Class of 2018
Leaders for Tomorrow Scholarship
"The vastly diverse perspectives I encountered at Stanford prepared me to be a leader in my community and beyond. Intellectual vitality shaped my experience, as did coming into a situation humbly. Now I am a Software Engineer at Salesforce, where I design and write code to ensure customer data is secure and backed-up. I enjoy helping our interns, as I was a teaching assistant during school. Without this Scholarship, I simply wouldn't have been able to attend Stanford. I would have had to decline the opportunity to attend one of the best schools in the world because I was born into a situation that I could not control. I will carry the impact with me the rest of my life. I hope that I, just like the Annexstad family, can impact communities in as profound a manner."
---
James Fisher – New York, NY
University of Pennsylvania
B.A. French and Francophone Studies
Class of 2019
Leaders for Tomorrow Scholarship
"Having grown up in the Bronx, I pursued a college degree to spark change in a high-impact setting: the classroom. As a teacher, I am shaping underserved communities like the one I grew up in. At the University of Pennsylvania, I connected with a talented network of educators and professionals that prepared me for a career in education. I leveraged my time as an Annexstad Scholar to pursue summer fellowships at various schools in the New York City area. By the time I graduated, I had a full-time offer to teach at Brownsville Ascend Middle School in Brooklyn, NY. I recently accepted a position with DREAM Charter School in East Harlem, where I will teach AP Literature. Outside of the classroom, I founded my company, Enlighten Tutors, in 2019 to offer individualized tutoring, test preparation, and academic skills consulting to all grade levels. In light of recent events, we have greatly expanded our digital offerings to continue to help close the academic achievement gap."
---
Austin Goodwin – Boca Raton, FL
University of Alabama
B.A. Communication and Information Studies; Advertising and Communications Studies
Class of 2019
Leaders for Tomorrow Scholarship
"The Annexstads taught me to aspire for more to create my own opportunities. I believe that being exceptional should be the standard to become the best version of yourself. Your Scholarship permitted me a peace of mind that I had never experienced. Finances had defined every waking decision, which saps passion from your soul – you've empowered me to focus, take chances, and thrive. A few months after graduation, my father passed away. The emotional strain of grieving while being the decision maker was draining, but I am proud of how I faced the challenge while balancing the everyday world. I am currently working as a Creative Director managing a talented team of marketing professionals. Recently I launched a pre-workout supplement, from designing its branding to formulating the ingredients. I have combined my passion for creativity and the world of bodybuilding into one mission. I've never had more fun and felt more satisfied."
---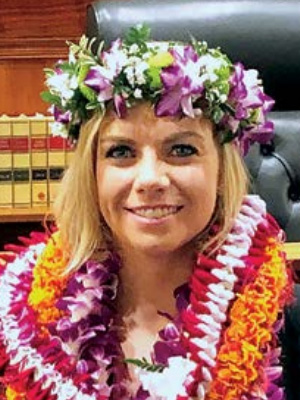 Maureen S. Willkom – Kailua, HI
University of Notre Dame
B.A. Psychology
Class of 2009
Big Brothers Big Sisters Program
"I grew up listening to Notre Dame's Victory March. It played regularly in our house because my dad had attended the University for a short time but did not get to graduate. He died when I was 12, and his love for Notre Dame motivated me to finish what he had started. But when I was 16, my mom died of cancer. I knew I needed to help my siblings, and college wasn't in the picture. When I received my acceptance letter, my joy was soon turned to anxiety over finances. The Annexstad Family Foundation Scholarship helped me attain what seemed like an impossible goal. They supported me financially and emotionally, giving me the confidence I needed to finish. After graduation, I worked as a child and adolescent case worker before going to law school and earning my J.D. from Marquette University Law School in 2013. I practiced law in Wisconsin for six years before my husband and I moved to Hawaii where I joined a firm. One of my proudest career moments was being admitted to the Hawaiian State Bar in January 2020. In this beautiful place, I practice community association law, representing homeowners and associations in litigation and alternative disputes."
---
Travon Sellers
Minnesota State University, Mankato
B.S. Marketing
Class of 2015
Big Brothers Big Sister Program
"The generosity of the Annexstad family has greatly reduced my financial burden and has allowed me to turn my passions into paychecks. While at school, I completed five paid internships, served as the vice president of the marketing club, spoke at our commencement ceremony, and built a thriving entrepreneurial marketing career by teaching myself the principles of design. Today, I am a digital marketing specialist at Hamline University leading enrollment marketing and strategy through data, technology, UX design, digital communications, channels, and presentation tools. We are creating and continually improving a quality online and digital user experience for prospective students, current students, and alumni, as well as prospective donors, faculty, staff, and stakeholders. After hours, I own and manage my own design company that specializes in innovative digital, print, and web campaigns. I am proud to serve as creative director for a local startup company and to have been selected as one of the Advertising Federation of Minnesota's '32 under 32' recipients."
---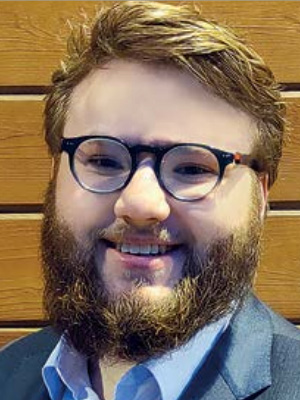 Logan Woessner – Austin, TX
University of St. Thomas
B.S. Neuroscience, Chemistry minor
Class of 2018
Big Brothers Big Sisters Program
"I am currently a full-time student pursuing a Doctor of Pharmacy from the University of Texas at Austin. I am also a Senior Certified Pharmacy Technician who primarily helps neurology patients at a local pharmacy. Transitioning from retail to specialty pharmacy was a tremendous professional achievement for me. I am responsible for securing insurance coverage for life-changing medications and promoting patient adherence to improve positive outcomes. I completed very difficult coursework at the University of Saint Thomas; The Annexstad Family Foundation scholarship gave me the ability to delve into my studies. Now I have the confidence and the technical skills necessary to become a leader in the field of pharmacy. I am able to synthesize and integrate information quickly to identify the best solutions. I cannot thank the Annexstads enough for believing in me and giving me the education to help the most critical patients live better lives."
---
Unique Takia Hayes – Cleveland, OH
Spelman College
B.S. Biology
Class of 2018
Leaders for Tomorrow Scholarship
"During my years as an Annexstad Scholar, Spelman prepared me to become a leader and instilled that I have the choice to change the world. At the same time, The Annexstad Family Foundation allowed me the opportunity to focus on the academic rigors and campus engagement without financial uncertainty. The core values of perseverance, consistency, and autonomy I developed while a first-generation college student led me to be more open-minded as I began to navigate the field of medicine. In the summer of 2020, I earned my Masters of Science in Medical Physiology from Case Western Reserve University while working the frontlines of the COVID-19 pandemic. I currently counsel socio-economically challenged teens as an adolescent health educator."
---
Juan Rangel – Washington, D.C.
University of Notre Dame
B.A. Political Science, Latino Studies
Class of 2015

Leaders for Tomorrow Scholarship

"As an Annexstad Scholar at Notre Dame, I was able to fully invest myself in understanding the political realities of our country and the issues impacting the Latino community. I learned the importance of coalition building and community organizing for underserved communities while joining Student Government and advocating for equal opportunities. As an alum, I mentor Notre Dame students who participate in the Institute for Latino Studies' Cross-Cultural Leadership Program while assisting them with their professional goals and networking skills. My path after graduation led me to work on strategizing immigration policy and advocacy for the Latino community alongside Congresswoman Linda Sanchez, the first woman of color elected to congressional leadership. Today I am a Senior Associate at D&P Creative Strategies where I serve as a political consultant developing strategies to achieve legislative goals."
---
Tania Mathurin – Washington, D.C.
University of Notre Dame
B.A. Political Science
Class of 2012

Leaders for Tomorrow Scholarship
"I am so grateful to The Annexstad Family Foundation. You allowed me to prioritize and focus on my education while having a close-knit family within a family environment at Notre Dame. I learned humility and perseverance while also having the opportunity to learn from great leaders and students within the field of international development. After graduating from college, my most memorable accomplishment was receiving my Master's in Public Affairs from Princeton University. I am currently serving as a Program Officer at Results for Development, managing all activities related to a USAID Health Systems Strengthening project in responding to HIV in the Cote d'Ivoire. Since graduating, I have lived in two different countries and am mentoring a Haitian student in applying to colleges in the US through a program called Education Haiti."
---