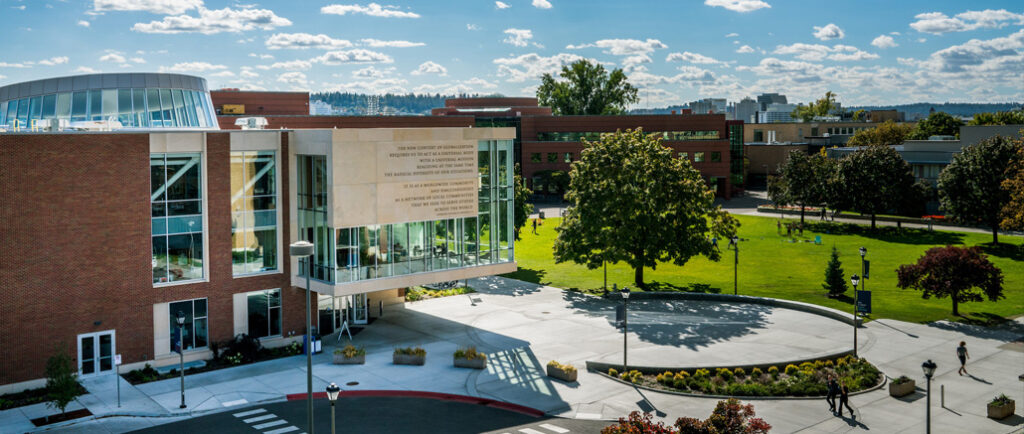 Gonzaga University in Spokane, Wash., came on board as a Leaders for Tomorrow partner with The Annexstad Family Foundation in 2015, expanding the Foundation's reach to the Pacific Northwest.
Gonzaga University is committed to developing each student's mind, body and spirit – inside and outside of the classroom. Toward that end, programs and academic studies encourage individuals to "become a person of curiosity, courage and conviction. A person of purpose." This focus falls perfectly in line with the vast potential that lies within a Leaders for Tomorrow Scholar.
In partnership with The Annexstad Family Foundation, Gonzaga awards two incoming first-year students the Leaders for Tomorrow Scholarship each academic year. These Scholars have their full cost of attendance met in effort to graduate in 4 or 5 years with little to no debt.
Annexstad Scholar Jasmin Azizi, a rising fourth-year Scholar at Gonzaga shares, "One of the things that I love about Gonzaga is that there is a push to be "men and women for and with others" in the classes and within the general community. This is something that I am extremely proud to be a part of, and it has helped shape the way that I view serving my community."
Annexstad Scholars can begin to build their greater Gonzaga network before officially beginning coursework through Gonzaga's Social Justice and Leadership Institute's BRIDGE program. BRIDGE (Building Relationships in Diverse Gonzaga Environments) offers a pre-orientation program where students can adjust to their new campus environment and begin learning about the resources available to them before the academic session begins.
During this pre-orientation program, students are paired with peer mentors and shown how to navigate Gonzaga while they continue mentoring throughout the year. Annexstad Scholars who have participated in the BRIDGE program have enjoyed being a resource to an incoming student. BRIDGE also offers workshops and events on topics such as identity development, community building, imposter syndrome, allyship and the social change model of leadership.
Students also meet with an AFF staff representative at least once a year during their four years. During these visits, Annexstad Scholars have the chance to connect with one another and meet with university leadership.
Gonzaga students are actively encouraged to discover their passion and leverage their undergraduate experience to make a difference in our society. "When you find your purpose at Gonzaga, you also find that you can use it to shape the world for the better – for all of us."
Recent Graduate, Marychristie Benjamin intends to do just that. She shares, "I am grateful for the Annexstad Scholarship's investment in my education. With my degree, I hope to delve into the world of digital finance and cryptocurrency and help facilitate the transition into a new financial ecosystem. This opportunity has granted me the possibility to create my own path and enter the next stage of my life with elevated prospects for my future."
Leaders for Tomorrow Scholars enter a welcoming environment among students like Benjamin who perceive opportunities for positive change – then find ways to implement it.